Richard Moore – Principal Osteopath/Clinic Director
acute & chronic lower back pain
treatment of babies
complex cases & presentations 
Principal Osteopath Richard has a first class BSc (Hons) degree from Oxford Brookes University, graduating in 2012. He is registered with the General Osteopathic Council (GOsC) and is a member of the Institute of Osteopathy (iO).
Richard is a proud father of two and has a special interest in how osteopathy can be used to help entire families, from very young children throughout life until the later years. His youngest ever patient was 4 days old and his oldest so far has been a young 99 and a half years!
He's been working with people's health since studying remedial massage in 2005. He's also an experienced kinesiology taping practitioner having completed KT1 and KT2 training from Kinesio UK and PowerTaping from RockTape. He also teaches seminars independently and for SportTape.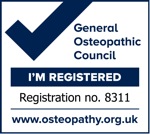 Qualifications:
BSc (Hons) Osteopathy (Oxford Brookes University), 1st Class Honours
Cranial Osteopathy Foundation (Rollin Becker Institute)
Introduction to Paediatric Osteopathy (British School of Osteopathy)
Developing Osteopathy in Paediatrics (Osteopathic Centre for Children)
The Miserable Baby (London School of Osteopathy)
Plagiocephaly/Flat Head Syndrome Management (University College of Osteopathy)
Advanced Diploma in Manipulative Therapy (Midlands School of Massage)
Diploma in Remedial Massage (Midlands School of Massage)
FA Certificate Levels 2 and 3 in Injury Recognition & Management
KT1 & KT2 Kinesio Taping – Kinesio UK
Certified Rock Doc – RockTape PowerTaping
Introduction to MovNat Principles
Pressure Points & Pain Control (Midlands School of Massage)
Appointed Person's First Aid Certificate
Publications:
Richard has appeared in a number of publications including the Daily Mail, Take A Break and Nottingham Evening Post discussing topics as varied as the treatment of babies, the effects of posture on health and how your bra can effect your body. He's also had a number of kinesio taping articles published in SportEX Dynamics magazine. You may even have heard him talking on Radio Nottingham or seen him in the TLC docu-series 'My Extraordinary Pregnancy'.
Public Speaking:
Richard presented at Primary Care & Public Health 2015 at the NEC, Birmingham to an audience of 800 midwives, discussing the use of cranial osteopathy in the treatment of unsettled babies.