What is the evidence for Kinesio Tape?
I'm very proud to say that I had an article published in the well-regarded journal SportEX Dynamics looking at the evidence for the use of kinesio tape in the treatment of musculoskeletal injuries.
The paper looked at 10 existing trials where the tape was used in the treatment of low back pain, shoulder impingement, whiplash, plantar fasciitis and patello-femoral (knee) pain and assessed whether the tape had any proven positive effects when compared to placebo or alternative treatments.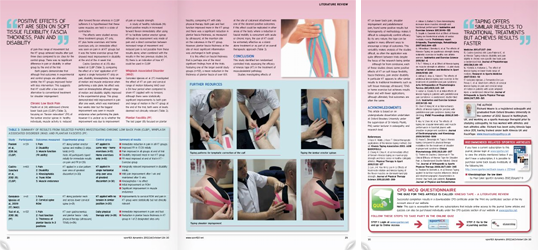 The study concluded that each of these trails showed some positive effects of KT on soft tissue flexibility, fascia thickness, pain and/or disability. In particular KT appears to offer similar results to traditional treatments such as soft tissue massage, ultrasound, TENS or home exercise but achieves results faster and with fewer applications, although ultimately final outcomes are often the same.
If you'd like to download the full text, you can do so here: what is the evidence for kinesio tape (2.3mb PDF)