Kinesio Tape – To improve performance & movement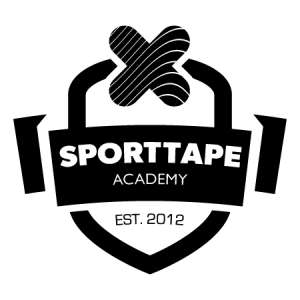 Richard is very experienced with using kinesiology tape and have been using it since the summer of 2011. He's studied under both Kinesio UK ( KT1 and KT2) and RockTape (PowerTaping Method) and is a qualified 'Rock Doc'. He also teaches seminars in the use of kinesiology tape both independently and for SportTape. He uses kinesiology tape as an integral part of his osteopathic and sports massage treatments.
What is kinesiology taping?
Kinesio tape was first developed by Dr. Kenzo Kase in Japan over 25 yrs ago. It was developed to assist the healing of traumatised tissue rather than simply immobilising the joints.
By allowing movement in the affected tissues, kinesiotaping has the ability to aid the lymphatic and muscle systems, substantially reducing recovery times whilst improving range of motion and muscle activity.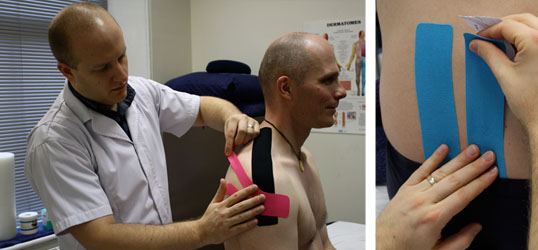 Applications can also encourage lymphatic fluid to move from areas of high pressure to low pressure and towards working lymph nodes. This is particularly helpful when treating acute injuries where there is some swelling evident. What is the evidence for kinesio tape?
How do we use kinesiology tape?
For us, kinesiology taping is a natural extension to the core osteopathic and sports massage treatment that we offer. It's particularly useful after the hands-on treatment has finished and offers a longer-term effect that can be felt, and seen, long after the session is over.
We don't charge any extra for using kinesiology tape with our clients as we believe it's a really useful technique. If it's something that you're particularly interested in, let us know and we'll see what we can do. You can even choose the colour!