Michael Feeney – Associate Osteopath
sports injuries
acute & chronic lower back pain
neck & shoulder pain
Michael is a registered Osteopath with a Masters degree in Osteopathy from Leeds Metropolitan University. He adopts a functional, biomechanical approach when assessing patients and treats musculoskeletal dysfunction to restore the body to its optimum.
Michael is also qualified in the application of kinesiology taping for sports injuries and has a keen interest in athletics, trains regularly and remains a national standard athlete in his event.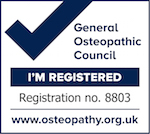 As a result of his own sporting experience he is ideally suited to treating patients with sports related injuries and understands the frustration of injury disrupting training and competition. Equally, he has as much success when treating all members of the community with everyday musculoskeletal complaints.